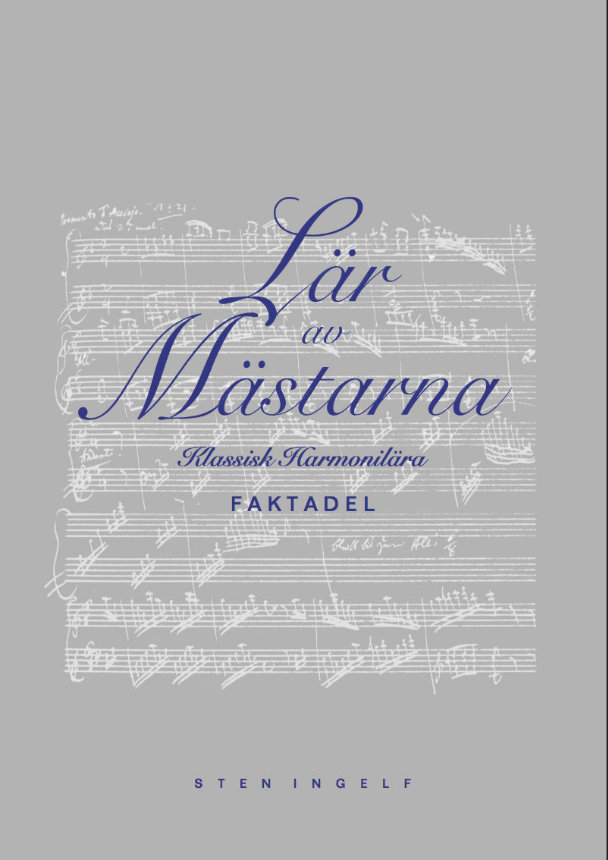 Lär av mästarna – Klassisk harmonilära

ISBN 9789197113397 (Sting Musik)
Lär av mästarna – Klassisk harmonilära utvecklar din förmåga att harmonisera och analysera musik genom studiet av de stora mästarnas verk. Boken är tänkt att fungera som komplement till "Lär av Mästarna – Arrangering för två till fem stämmor", men kan även studeras separat. Materialet består av en FAKTADEL (226 sidor) samt en DVD-romskiva innehållande ÖVNINGSDEL (192 sidor) för utskrift från dator. På DVD-skivan finns även 285 inspelade övningsexempel samt övningsexempel för notation direkt i notskrivningprogram.
ÖVNINGSDEL
Ladda ner och skriv ut endast för privat bruk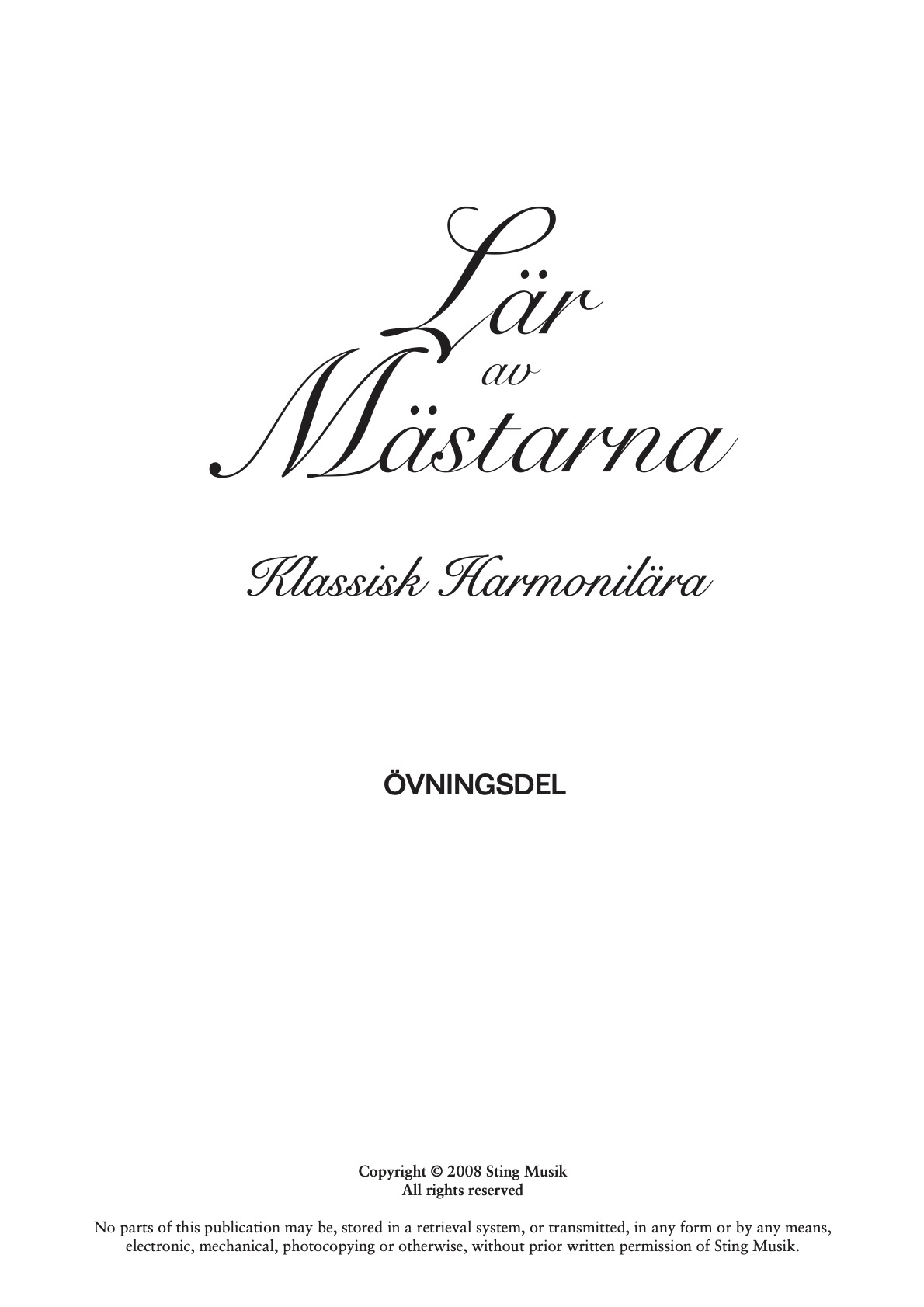 Notexempel – Övningsdel
Ladda ner 28 utvalda övningar som
Finale-filer eller MusicXML-filer
MUSIKEXEMPEL – Faktadelen
Inspelade musikexempel i Mp3-format namngivna efter faktadelens sidnummer/exempel,
t ex 122_4 = sidan 122, exempel 4.
Exempel 15-1
Mozart: "Säg farväl, lilla fjäril, åt nöjen"
Exempel 15-2
Mozart: Serenad nr 12, IV (KV388)
Exempel 19-3
Schubert: Symfoni nr 6, II
Exempel 19-4
Schubert: Symfoni nr 5, II
Exempel 19-5
Mozart: Trollflöjten, "Prästernas marsch"
Exempel 23-1
Dvorák: Symfoni nr 9, II
Exempel 23-3
Mozart: Serenad (KV 375), III
Exempel 23-4
G. F. Händel: "And the Glory of the Lord", Messias, nr 3
Exempel 25-2
Schubert: "Der Lindenbaum", Winterreise Op. 89
Exempel 25-3
Mozart: Pianosonat i A-dur (KV 331)
Exempel 25-4
Haydn: London trio nr 2, I
Exempel 25-5
Mozart: Divertimento nr 1, Menuett (KV 229)
Exempel 25-4
Mozart Trollflöjten Prästernas marsch
Exempel 31_1
Haydn Symfoni nr 4, III"
Exempel 31_2
Mozart Hornkonsert, III (KV 417)
Exempel 31_3
Wagner Lohengrin, "Brudkören", Akt III
Exempel 31_4
Mozart Serenad nr 12, II
Exempel 33_2
Mozart Hornkonsert, Romans (KV447)
Exempel 35_2
Mozart Divertimento nr 4, Menuett (KV Anh. 229)
Exempel 35_3
Beethoven Symfoni nr 1, II
Exempel 35_4
Schubert Symfoni "den ofullbordade", II
RECENSIONER
Rolf Martinsson  
Composer and professor in music theory, arranging and composition at Malmö Academy of Music, Sweden
In Classical Harmony (Learn from the Masters, by professor Sten Ingelf), including a DVD for computer containing workbook 192 pages, 285 audio examples. I use it when teaching at the Malmö Academy of Music, Sweden and I also know about and use other great books from this author. It's really top pedagogic material and easy for students to get in to! Buy the book!!!
Dan Kelly  

Teaching art is an art in itself, and Sten has written a book that does just that.
The book is really a course. Theory is first learned in the physical book, and then one completes the exercises from the PDF workbook that comes with the DVD. What I like most is the closeness to which one comes to the great composers; in the first chapter one is already harmonizing a Haydn melody! In addition Sten has managed to get Naxos to allow him to use clips from their recordings, so one can listen to all the examples from the book played and recorded by professionals. The book is free from pastiches, the examples are all from great composers, and by working alongside the greats I felt it nurturing mastery in me. The only thing to be aware of is that the answer book to the workbook is on Sten's website, and not on the DVD. Although inconvenient, it is not a big deal when one considers the huge amount of loving work that has gone into making this book. It has made learning harmony a great pleasure for me.
Peter van Tour  

In short, Learn from the Masters is a very good and practical textbook of classical harmony which I would recommend anyone who would want to learn the basic stylistic features of the great masters of our western musical tradition. 
Christopher Walters  
Music Teacher, dec 2012
Packed with information
Between them, these two books [Learn by the Masters] set out to develop your ability to harmonise, analyse, compose and arrange music. Their author, Sten Ingelf, is professor of music theory at Malmö Academy of Music in Sweden.
The first book, Classical Harmony, is aimed at secondary and tertiary students. Its small font, dense layout and lack of colour may put some secondary students off, but it is an excellent and comprehensive reference volume, covering every chord, suspension and progression needed for the study of harmony at school, university and beyond.
The book's unique selling point is its thoroughness, rather than any radical new approach. It begins with simple triads, progressing through inversions to altered chords and expanded tonality. Explanations are always clear, and there are plenty of musical examples, which are also supplied on an accompanying CD for easy printing.
Lynn Cavanagh  

To summarize, Learn from the Masters: Classical Harmony unites selected methodologies from predecessor harmony texts—historical and current, Euro- pean and North American—to present an internally consistent aural approach. Readily purchased through the publisher's Internet site, it is well worth acquir- ing as a specimen of music theory pedagogy in Europe today. For the sound- ness of its teaching method, it is worthy of consideration for course adoption by North American music departments too, particularly, but not only, those that o er courses in music arranging.